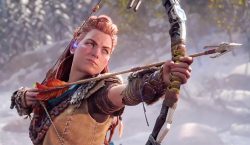 Horizon: Forbidden West "na papiru" i dalje predviđen za ovu godinu
Unatoč stalnim odgodama svojih raznih ekskluziva, Sony je uvjeren da će nastavak Horizona ipak doći na vrijeme. Horizon: Forbidden West je i dalje u planu za ovu godinu, zajedno sa Returnalom i Ratchet & Clank: Rift Apart, za koji su otvorene prednarudžbe.
Jim Ryan je izjavio u svom jučerašnjem intevrjuu kako Horizon i dalje ide po planu. Što se tiče God of War Ragnaroka, za koji su već mnogi počeli sumnjati da ćemo vidjeti ove godine, Ryan nije ništa rekao.  "Imamo dobar osjećaj oko Returnal, Ratchet & Clank: Rift Apart i Horizon Forbidden West igara. Znate, postoje dva načina pristupanja ovome: ili ćete se držati datuma i izdati igru bez obzira na kvalitetu ili ćete je objaviti kada je uistinu pravo vrijeme. Mi se držimo potonjeg načina. Bilo je par slučajeva gdje su izdavači visokog profila ipak odlučili za ovu prvu verziju" – rekao je Ryan i implicitno se osvrnuo na rani izlazak Cyberpunka 2077 koji, po mnogima, još nije gotova ni spremna igra.
Nedostatak spominjanja God of Wara može brinuti fanove, no moguće je da se radi ipak o nekom drugom razlogu, a ne nesigurnosti vezane za ovogodišnji izlazak igre. Za sada još nema službenih vijesti vezanih uz moguću odgodu te igre.