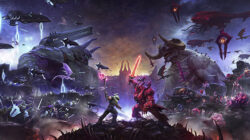 DOOM Eternal je konačno dostupan na PS5 i Xbox Series X/S konzolama, besplatna nadogradnja očekuje vlasnike PS4 i Xbox One verzija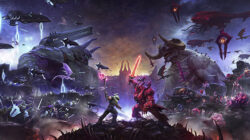 Ako niste znali, jučer je stigla next-gen verzija DOOM Eternala, jedne od najboljih igara koja je stigla tijekom PlayStation 4 i Xbox One generacije. Ova poboljšana verzija ne uključuje samo veću rezoluciju i grafičku uljepšanost, već koristi i svima nama poznati ray tracing, a novi trailer pokazuje koliko dobro igra izgleda s ovom tehnologijom.
Ova poboljšana verzija dostupna je besplatno onima koji već imaju originalnu igru, pa je možete početi preuzimati odmah.
Jučer je objavljen next-gen update za DOOM Eternal, koji omogućava da se snaga novih konzola iskoristi kako bi se poboljšala grafika i tehničke značajke Bethesdinog remek djela. Nažalost, PlayStation igrači imaju niz problema s naslovom, uključujući nemogućnost prijenosa save fileova između generacija.
Kao što se dogodilo s Metro Exodus: Complete Editionom, oni korisnici koji žele prenijeti svoje save fileove s PlayStation 4 na PlayStation 5 to ipak neće moći učiniti, dok je to na Xbox One i Series X/S konzolama ipak moguće. S druge strane, vlasnici DOOM Eternala s europskom verzijom igre imaju poteškoće s preuzimanjem besplatnog ažuriranja za PS5, no dobra vijest je da Bethesda već radi na rješenju.
DOOM Eternal će raditi u 4K rezoluciji pri 60 fps na PS5 i Xbox Series X konzolama, uz omogućen ray tracing. Na Xbox Series S konzolama neće imati ray tracing, a moći će postići maksimalnu rezoluciju od 2K pri 60 fps.