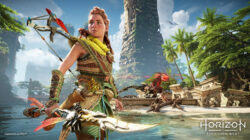 PS5 verzija Horizon Forbidden Westa traži preko 90 GB slobodnog prostora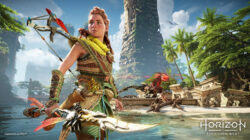 Horizon Forbidden West stiže za manje od mjesec dana, a ukoliko ga planirate zaigrati na PlayStationu 5, spremite se za "čistku" svojih SSD-ova, budući da će vam ova velika PlayStation ekskluziva pojesti popriličnu količinu njihovog slobodnog prostora.
Nije neka tajna da će Horizon Forbidden West biti doista ogromna igra, a zahvaljujući stranici PlayStation Game Size, doznali smo i koliko će vam prostora trebati da instalirate njenu launch verziju.
Horizon Forbidden West (PS5)

Download Size : 96.350 GB* (Without Day One Patch)

* Some Games on Database Have Bigger Size Than on Console (10-20 GB) , Anyway Still +70 GB !

Pre-Load : February 11
Launch : February 18

#PS5 #HorizonForbiddenWest
@Guerrilla pic.twitter.com/f8g0GeD4DP

— PlayStation Game Size (@PlaystationSize) December 21, 2021
Kako doznajemo, Horizon Forbidden West će prilikom launcha tražiti minimalno 85.91 GB, ukoliko igrate sjevernoameričku verziju. S druge strane, za nas u Europi ta cifra će biti još veća s obzirom na to da će nam već prilkom prvog pokretanja igre ista pojesti čak 96.35 GB. Naravno, vrijedi naglasiti da se radi o "goloj" verziji koja će sasvim izvjesno biti i veća nakon day one patcha.
Nažalost, trenutno nije poznata veličina PS4 verzije, koja izlazi paralelno sa onom za PlayStation 5, ali zato još jednom podsjećamo da je Horizon Forbidden West posljednja PlayStation ekskluziva koja dolazi sa besplatnom next-gen nadogradnjom, što znači da će svi oni koji kupe PS4 inačicu moći napraviti besplatni PS5 upgrade.
Pre-load igre počinje od 11. veljače, a istu ćemo moći zaigrati tjedan kasnije, dakle od 18. veljače.