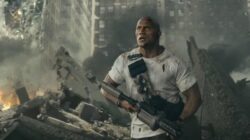 The Rock radi na još jednoj velikoj gaming ekranizaciji, čiju ćemo najavu vidjeti već ove godine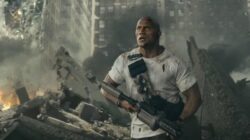 Dwayne "The Rock" Johnson, trenutno jedan od najpopularnijih i najtraženijih hollywoodskih glumaca, potvrdio je kako ćemo ga vidjeti u još jednoj velikoj gaming adaptaciji.
Johnson, koji je već glumio u filmovima baziranim na igrama kao što su DOOM i Rampage, otkrio je kako radi na još jednoj ekranizaciji doista velike igre koju je opisao kao "najveću i najopakiju" ikada. Iako nije otkrio o čemu se zapravo radi, The Rock je potvrdio da ćemo najavu filma vidjeti već ove godine, a i to je bilo dovoljno da forumi i društvene mreže jutros budu krcati predviđanjima i teorijama fanova o kojoj igri ili serijalu bi se moglo raditi. The Rock je nedavno stigao u Fortnite, pa je jedna od opcija bila ta da se navodno radi o filmu inspiriranom ovim globalnim hitom. U posljednje vrijeme, dotični glumac je dovođen u vezu sa Mass Effect filmom, a oni hardcore fanovi i gameri već vide gospodina Johnsona u potencijalnim God of War i Gears of War filmovima.
The Rock says he's going to star in a new movie based on a video game.

"We're going to bring one of the biggest, most badass games to the screen–one that I've played for years."

Anyone else thinking what I'm thinking? pic.twitter.com/maP9v3047X

— MBG (@xMBGx) January 25, 2022
Posljednja dva, složit ćete se, svakako zvuče najsmislenije s obzirom na badass konstituciju i stav glumca, no pitanje je samo koliko smo spremni da The Rocka vidimo u ulozi Kratosa ili pak pripadnika legendarnog Delta Squada (možda Doma, budući da je uloga Marcusa Fenixa jednostavno stvorena za Davea Bautistu, koji već duže vrijeme i lobira za istu). S druge strane, The Rocka vidimo kao sjajnog Pac-Mana, naravno odjevenog u prepoznatljivu smeđu majicu koju smo vidjeli u barem pet-šet njegovih filmova.