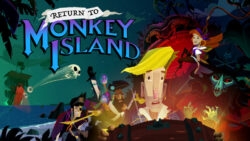 Prikazan je premijerni gameplay trailer avanture Return to Monkey Island, potvrđene su verzije za PC i Nintendo Switch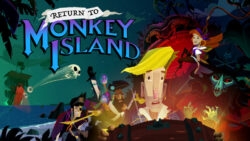 Jedna od najzapaženijih igara koje smo vidjeli tijekom novog Nintendo Directa, svakako je Return to Monkey Island.
Devolver Digital i Terrible Toybox su nas počastili premijernim gameplay trailerom za spomenutu povratničku avanturu, čiju smo najavu vidjeli prije nekoliko mjeseci. Uz trailer, dobili smo potvrdu da Return to Monkey Island već ove godine dolazi na PC i Nintendo Switch. Za sada nema informacija hoćemo li spomenutu igru vidjeti i na PlayStation i Xbox konzolama, no velika je šansa da će se Ron Gilbert i Dave Grossman potruditi da svoju novu igru približe što većem broju igrača.
Za slabije upućene, Return to Monkey Island je šesta po redu igra iz ovog serijala, no radi se o službenom nastavku legendarnog Monkey Islanda 2. Uz već spomenutog Rona Gilberta i Davea Grossmana, koji su inače radili na originalnim igrama, na ovom ostvarenju rade još i sladatelji Michael Land, Peter McConnell i Clint Bajakian, dok ćemo u ulozi dobro poznatog Guybrusha Threepwooda čuti Doninica Armata. Da se radi o ostvarenju koje bi svakim svojim atomom trebalo zadržati duh serijala, možete se uvjeriti u traileru koji je pred vama.