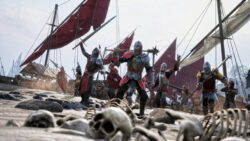 Cross-play otvorena beta za Chivalry II stiže uskoro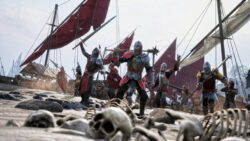 Tripwire, Deep Silver i Torn Banner Studios su najavili cross-play otvorenu betu za Chivalry I, koja će biti održana u periodu od 27. svibnja do 1. lipnja.
Beta će biti dostupna na svim platformama za koje je igra namijenjena te će vam omogućiti da igrate sa i protiv svojih prijatelja na tonu novih mapa u završnom beta testiranju koje će se dogoditi prije samog izlaska igre. Nove lokacije uključuju Slaughter of Coxwell, The Battle of Darkforest i The Siege of Rudhelm u Team Objective modu, potom The Battle of Wardenglade i Tournament Grounds u Team Deathmatch modu i Free For All modu, od kojih je potonji novi mod otključan u nadolazećem beta testiranju.
Također će biti omogućena potpuna prilagodba vitezova kako bi izgledali najbolje što mogu, a možete igrati i na velikim serverima koji nude granicu od 40 ili 64 igrača, ovisno o modu igre. Također se možete grupirati i organizirati party s prijateljima na istoj platformi prije nego što pođete u bitku na cross-play servere, ako tako odlučite, dok PC igrači mogu ući u posebne "Duel Servers" i ići jedan na jedan s drugim igračima.
Preload za otvorenu betu bit će dostupan od 26. svibnja, dok sama igra na PS4, PS5, Xbox One, Xbox Series X/S i PC stiže 8. lipnja.