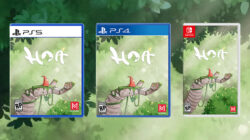 Prekrasni puzzle platformer Hoa potvrđen i za PlayStation i Xbox konzole
Izdavač PM Studios i developerska ekipa Skrollcat Studio odgodili su svoju simpatičnu puzzle platformer igru za lipanj ove godine. No, za utjehu, pripremili su ugodno iznenađenje.
Naime, Hoa je prvotno bila najavljena za travanj i to samo za Nintendo Switch i PC. No, sada smo dobili potvrdu kako će igra izaći za PlayStation 4, PlayStation 5, Xbox Series i Xbox One konzole.
Redatelj igre, Son Tsung Cao rekao je kako je ideja za ovu igru došla developerskom timu prije tri godine. "Namjerili smo se da izgradimo predivan svijet koji priča svoju priču, a sada smo sretni što napokon možemo podijeliti sa svima vama do čega nas je to putovanje dovelo."- nastavio je redatelj.
Za više o ovoj zanimljivoj indie igri pogledajte u traileru i gameplay videu ispod: